G'Morning everyone! I'm back with some more freebies for you.. I created 3 ( 600 x 600 ) quick pages for you from the " A Family's Hope" collaboration scrap kit usng "
Just Me... Wee's "
contribution to the kit. There are some great kits in that collab. If you haven't yet- go take a peek and consider purchasing it, it will not only help the cause but also give you many creative opportunites... I mean, it's huge and will come in handy for so many creations.... Here is the store that the collab kit is in :
Paradise4Scrappers.
Great store ! Great people !
Okay here are the previews of the layouts I created to share with all of you. Please leave some love when you download them and be sure to read the tou's as there is important information on how to go about crediting in use in using them.


Download : HERE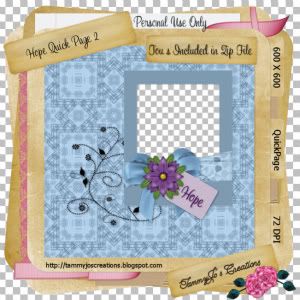 If anyone has trouble getting the files , e-mail me and I'll see what I can do to get them to you.
Hugs to everyone and hope you have a great evening! ( Yeah, I started this this morning and now it's evening lol- I had a few distractions in between so am just now posting. Hope you enjoy and can use these layouts. )
TammyJo