I've been creating with Michelle's ,
owner of " Crafty Scraps" , scrap kits
And I've finished up TWO
1600 x 1600 Quick pages for you .


These are created from Michelle's
Raggedy Love "Be My Valentine" Scrap Kit ...
Click On Her Scrap Kit Preview Below To Go Shopping!

Doesn't that kit look fun? Think of all the possibilites...
Michelle also has a very nice blog...
To visit her blog, click "
HERE
"
You just never know what you may find there ;-)
Also, be sure to sign up for her newsletter...
You are missing out if you are not signed up...
so do that asap so you can stay on top of things.
She loves to hear from you too- so be sure to leave a " Hello"
and a " thank you" in her c-box on her blog as well.
She could also use our prayers..
I'm keeping her in mine and hope that you all will do the same.
Below are the previews to the Two QuickPages I created...
All information needed is in the tou's that
you will find in the file(s) once you download them..
I had a blast creating these .. I hope you enjoy them.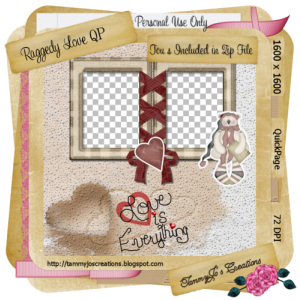 You can download Quick Page 1 by clicking " HERE"
You can download Quick Page 2 by clicking " HERE"
E-Mail me
if you have any problems getting the files...
Please take a bit of time to say " Thank you " either at 4 shared
or here in the comment section of this message or
even by using my c-box over to the right hand side.
I love hearing from you all.

I hope that you have a fantabulous day.
Hugs ,
TammyJo