Sue wrote a tutorial using my " It's Winter , Let's Have Fun"
PTU Scrap Kit along with the beautiful art from Artist Suzanne Woolcott...
( There is a freebie Add-On to this kit on my other blog )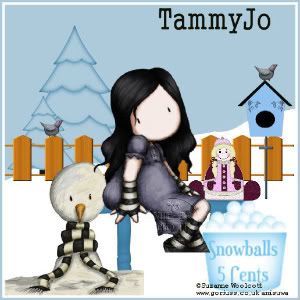 You can view the tutorial by clicking on the url below:
Thanks so much Sue ! I really love the tutorial and the outcome..
( I think you know how much I love it via the e-mail response eh ? LOL )
I must admit - I danced around in the room etc-
I got a bit excited seeing this beautiful tag that Sue created along with a tutorial.
You can visit Sue's blog by clicking
" HERE" .
She has a lot of fantastic tutorials there.
Sue also has a blog for blog layouts and she has some beautiful ones
to choose from so be sure to take a peek at both of her blogs.
Sue's Blog Sets
Blog

While you are there - leave a " Hello" in her c-box -
I know she'd love to hear from you.
Thanks again Sue!
Hugs everyone and Sweet Dreams when you head to bed.
That is exactly where I am heading after I click Publish Post.
G'Night ;-)
TammyJo aka *TJ*